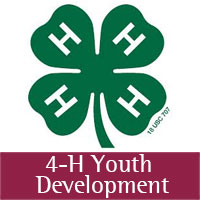 4-H & Youth Development
Our 4-H youth development program is a dynamic non-formal education program. It provides opportunities for youth to learn life skills and gain knowledge while having fun. The life skills learned in 4-H enable youth to become productive, well-informed, self-reliant, responsible adults.
"New Mexico 4-H: The Fabric of Young Lives"
Necessary Information
Upcoming Events
ENROLLMENT DEADLINES
Continuing Members, December 29, 2017 New Members, February 28, 2018
SHOOTING SPORTS
Rifle
Resumes on January 8, 2019 5:00 p.m. - 7:00 p.m. or dark, LA Sportsman's Club. Ongoing every other Tuesday
Archery
Resumes on January 15, 2019 5:00 p.m. - 8:00 p.m. or dark, LA Sportsman's Club. Ongoing every other Tuesday
Los Alamos 4-H Club Leaders