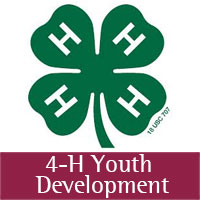 4-H & Youth Development
4-H youth development is a dynamic non-formal education program which teaches life skills through leadership and citizenship opportunities in a fun environment. 4-H youth learn effective communication skills, positive self-esteem, a solid sense of personal responsibility, and the ability to make sound decisions.
2019-2020 Enrollment now Open
Register at the Los Alamos County Extension office OR download forms below (fillable).
Deadline for enrollment is January 31, 2020.
High Country Team 4-H
Club meets every 4th Thursday of the month at 5:30 p.m at United Church of Los Alamos (except holidays)
Team LA - Young Guns
SHOOTING SPORTS
Archery Practice every other Tuesday 5:00 p.m. - 8:00 p.m. or dark, LA Sportsman's Club. Fall 2019 dates: 11/19, 12/3, 12/16
Rifle Practice every other Tuesday 5:00 p.m. to 8:00 p.m. or dark, LA Sportsman's Club Fall 2019 dates 11/26, 12/10
Go to Sportsman's Club website for details http://www.la-sc.org
Necessary Information